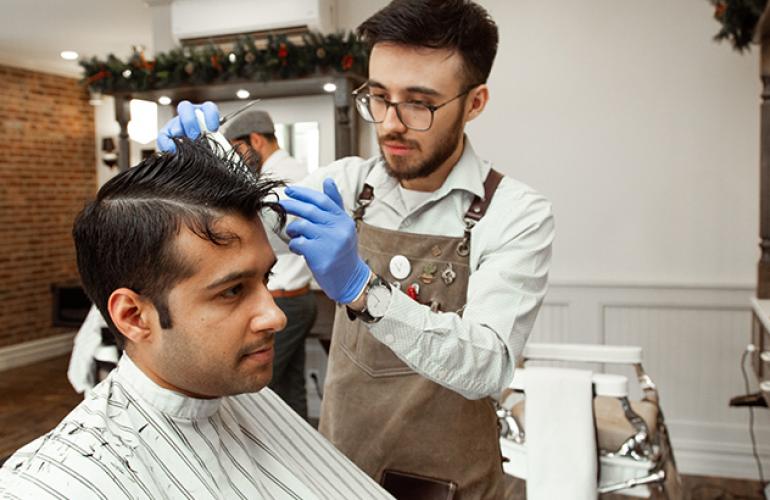 Haircut Styles
It would not be wrong to say that hairstyle is an integral part of people's appearance. It reflects the inner world of the owner, his preferences, and desires. Visit our salon center in Qatar and get a perfect haircut in a few minutes. Our hairstylists will choose the best haircut styles and work out all details with great detail. As a result, you get the best haircut which suits your personality and character very well.
Sports hairstyles are very comfortable and suitable for any style of clothing. A short hair length distinguishes them all over the head with a small volume at the top. There are also no age restrictions for sports hairstyles. Professional athletes, football players, swimmers, boxers, and other sports persons are crazy about this hairstyle. Our hairdressers can implement all types of sports haircuts over your head. Just let them know your preferences.
This hairstyle includes hairstyles with careless styling and disheveled strands. Shaved temples and oblique bangs often emphasize it. It helps you to make your personality different from ordinary individuals. Young age individuals often choose this style when participating in special events and celebrations.
A fade haircut is quite popular among a large number of stylish men. It gives you a stylish and spectacular appearance. It is always easy to maintain such a hairstyle for a long time. Remember, the principle of haircuts is a smooth transition of hair length from the back of the head to the crown. Because of the smooth transition, it is possible to leave any hair length on the head. This hairstyle is versatile and suitable for both athletes and business people.
It is one of the most popular hairstyles for many trendy and stylish men. Its principle is straightforward and meets all modern trends. Our hairdressers shorten or shave off hairs on the temples and back of the head to let you have this style. Choose this hairstyle to look more confident and stylish. After cutting your hair, our hairdressers wash it, apply a little gel and comb it to maintain an undercut hairstyle.
Visit our salon today and get a haircut in your favorite style in a jiffy.