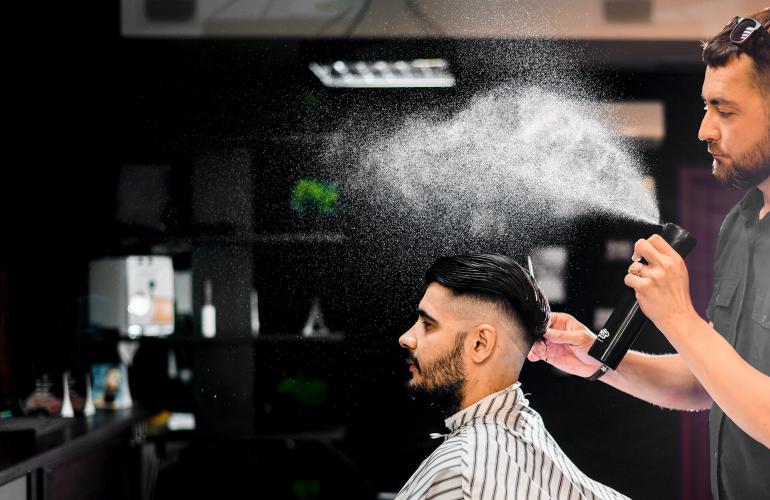 Men's Grooming Hair Care
Whether you have long or short hair, grooming is essential to have a decent appearance. Lack of volume, dandruff, too greasy hair can spoil your image and make you a laughing stock in the eyes of other individuals. Keep in mind that men are pretty pragmatic in hair care. Usually, they choose a simple solution. But this is not enough. They need to have a comprehensive approach to hair care and its grooming.
A timely haircut is quite essential to have a pleasant look. So whenever you feel your hair has grown, pay a visit to our salon at any time. We are always happy to help you with stylish haircuts. Let us know your favorite hairstyle. We cut your hair and let you have sleek hair.
The Use of High-quality Hair Care Products
To keep your hair in good condition and maintain its original appearance for a long time, we use high-quality shampoo, soaps, creams, and conditioners when people visit our salon centers for hair grooming treatments.
Hair coloring has now become the order of the day. We are experts in this art. Let us know your requirements and allow our hair care specialists to perform the job. They will apply the desired color to your hair and make you look more attractive.
Hair Grooming For Special Events and Celebrations
Do you need to join high-profile parties and celebrations in the upcoming days? Do you want to give unique treatments to your hair to look more appealing? If yes, pay a visit to our salon center and let us know your hair grooming desire. Our specialists will give you a perfect hair care treatment using the latest tools, cosmetic products, and experience.
Visit our salon center today for all-inclusive hair grooming services at affordable prices.