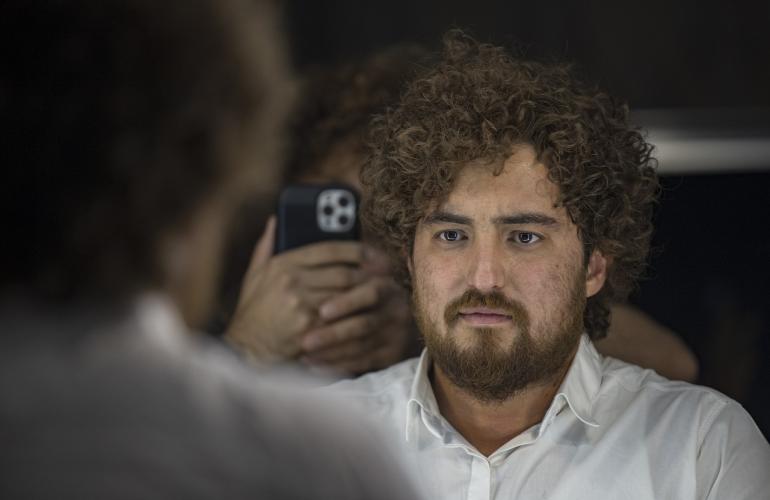 Curly-Haired Men Rejoice: The Best Haircuts to Enhance Your Natural Texture!
Men with curly hair often find it challenging to choose the best haircut that can make them look impressive & appealing. The adequately selected haircut can enhance your texture, create volume and make you stand out. But with so many different hairstyles, how to choose the right haircut? Don't worry; visit our Top Men's Salon Shop in Qatar. Hairdressers working with us have a lot of hairstyles for men with curly hair. They can implement any hairstyle as per your desire. Look at the list of the best haircuts for curly-haired men detailed below-
● The Classic Cut For Men With Curly Hair
A classic haircut is a timeless option for most men with curly hair. It is easy to maintain and works very well with your hair type. This haircut is characterized by short sides and back and slightly longer hair on top that our hairdressers can style in multiple ways. First, they cut your hair to around two to three inches on top and around one inch on the sides and back to enhance your natural curls. Then, they use a styling cream or mousse to tousle your curls and create a messy, textured look.
● The Long and Loose Cut
An extended, loose cut might give you a more relaxed, bohemian look. In this hairstyle, you have long hair on top and the sides and back left slightly longer. The hair length helps to keep your hair from becoming too heavy. Our hairdressers cut the hair, apply a curl-enhancing product, and let it air dry for a natural, effortless look.
● The Short and Textured Cut
For all those men who prefer a shorter, more refined cut, the short and textured haircut is a great alternative. It features short hair with varying lengths and textures to create a dynamic, layered look. Our hairdressers use a razor or shear to develop different sizes and textures throughout your hair to achieve this style. Then, they apply a matte finish styling product to your hair to create a fascinating look.
● The Undercut
This haircut is quite popular among men with all hair types, but it can be particularly flattering for those with curly hair. To enhance your natural look, our hairdressers leave your hair longer on top and use scissors instead of clippers to create a softer, more natural-looking cut.
● The High and Tight Cut
It is a classic military-inspired style that works particularly well for men with curly hair. It has concise hair on the sides and back, with slightly longer hair on top that can be styled in various ways.
● The Afro
It is a classic and flattering option for men with curly or kinky hair. It features hair grown out and styled into a large, rounded shape. Our experts make your hair well-moisturized to create an afro look and use a pick or comb to style it and prevent tangling.