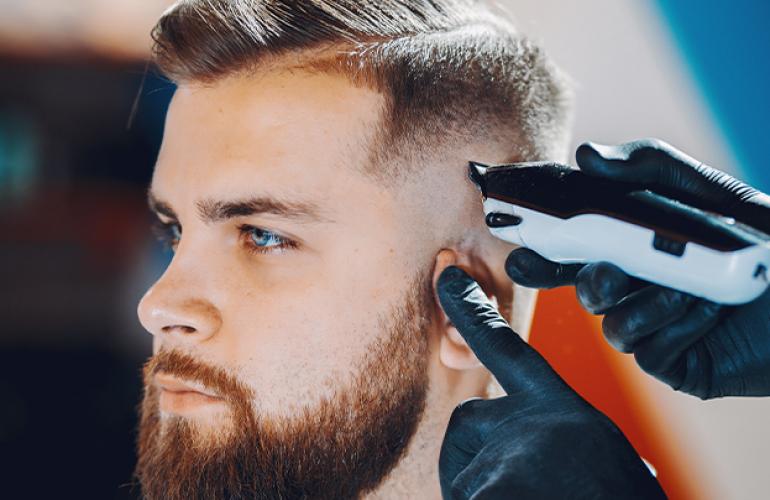 Men's Fade Haircut – The Tips And Tricks Every Man Should Know
Modern men always care about their appearance.So, they always try to follow the fashion and keep abreast of all the news.Therefore, the fade hairstyle is quite popular among many people living in Qatar. The advantage of this fashionable hairstyle is its versatility. After all, a men's haircut called "fade" is suitable for owners of any face shape and any type and length of hair. Moreover, men with such a haircut look courageous and attractive, especially if a neat beard complements the image.
Due to its versatility, the Fade hairstyle is preferred by athletes, office workers, and even business leaders. However, always remember that not every professional master can make the perfect fade. Therefore,you must visit our salon center for men's fade haircuts. Our experts will implement this haircut with absolute perfection. An excellent fade haircut is all about being creative and paying attention to minor details.
A men's haircut of the fade type complements the image and performs various functions. It should protect the skin of the head from frost and ultraviolet rays, and attractiveness is an essential function. The stylish Fade hairstyle will appeal to all men.
Fade Haircut: Who Are Suitable For it?
The Fade haircut for men, represented by the tapered variety, offers a medium hair length option. This is a sporty hairstyle that young people love. The image will be memorable and expressive; any clothes will suit it. In addition, this is an ideal option for owners of different types of hair. For example, a haircut is appropriate for curly curls and a man with bald patches; in the second case, these apparent flaws can be hidden.
How Do We Make a Men's Fade hairstyle?
An ideal fade should look impeccable, so it is better to entrust us to implement this hairstyle. Even a slight change in the length of the hair can affect the perception of the overall appearance. In addition, the size of the upper strands determines the styling options.
Men's Fade is a creative approach. So. a solid experience with our hairdressing expert, accurate eye and hand coordination, patience, and attention to detail matters a lot. They will evaluate the shape of the face and head, the structure and type of hair, the unevenness of the head, and the presence of scars or birthmarks.
Based on this, they will determine the length of the hair of the occipital and lateral parts, the smoothness of the "smoky" transition, and the length of the strands left on the head and parietal region. They often use a professional-level hair clipper with the necessary nozzles to perform this hairstyle.
Practical Tips to Maintain Men's Fade Haircut
● First, you need to review your daily diet. You should eat plenty of dark leafy greens, colorful fruits and vegetables (avocados, pomegranates, etc.), eggs, lean proteins, beans and nuts, omega-3 fatty acids (fish, fish oil, flax seeds), and herbs (mint, turmeric, etc.) every day, avoiding excess fat and processed foods. Also, make sure you drink enough water throughout the day to keep your scalp and hair naturally hydrated,
● You should try using a good dry shampoo to keep your hair's natural oil balance intact,
● Visit our salon center for haircuts and maintenance of Fade.