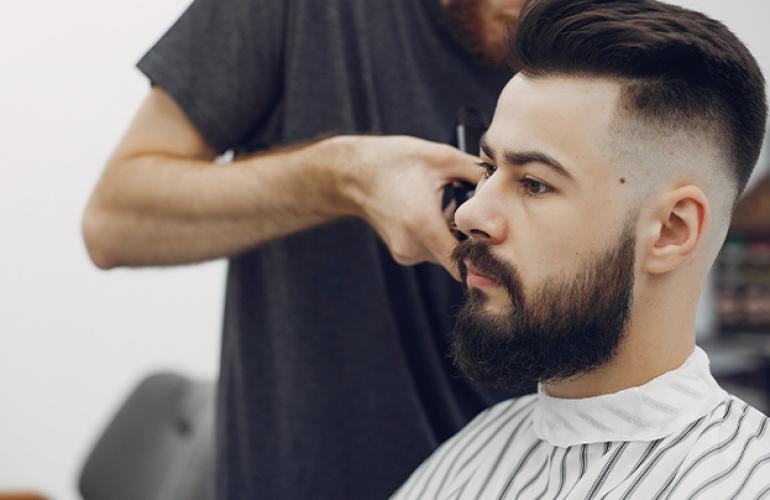 Fade Haircut For Men In Qatar
In simple words,fade is an element of a haircut,a smooth transition that will instantly improve your hairstyle.It is a universal technique applicable to almost any short men's haircut.It makes them look visually appealing and attractive in daily life.So, it is safe that the whole essence of the fade is in the smooth transition and precise edging lines.Visit our salon center today and get your favorite fade haircut at affordable prices. Let's know more about it.
Different Types of Fade Haircuts
● Low Fade
The low fade disappears above the ears, and the transition from long to short hair begins at the back of the head. This is a great way to show off the hair with more texture or achieve a wavy look on top so that the hair on top is left longer for styling. It is a good option for a more oblong, diamond,or triangular head shape but can also be paired with a low fade with a well-groomed beard, which creates contrast in textures between the fade and the beard.
● Medium and Classic Fade
To implement this hairstyle,our hairdressers remove the hair on the sides and back, shave off everything below, and the transition begins above the ears, in the middle of the side zone.This fade variation is the most common because it fits a large number of haircuts.
● High Fade
It creates the contrast between the sides and the long hair on top. A sharp transition begins and ends above the temporal angles.Everything below is shaved to zero.The transition line runs about 5 centimeters from the top of the head. It is suitable for square or round face shapes.
● Fade With Scissors
With the help of scissors and a comb,our hairdressers can shape the haircut to suit any type of face.We implement this hairstyle when the client has a more individual head shape. It has no sharpness or sharp transitions.
Valuable Tips From Our Barbers
We believe that the fade is suitable for many,especially for people with broad cheekbones,a square face shape, and an active lifestyle. However, always remember that not everyone can do a good fade.Therefore, you must visit our salon center for this haircut. We pay attention to the shape of your head and take into account all the pits,depressions, and bumps of the skull when choosing the look of the fade. If you keep a fade haircut, you need to visit our salon center regularly for regular trimming and maintenance of this hairstyle.