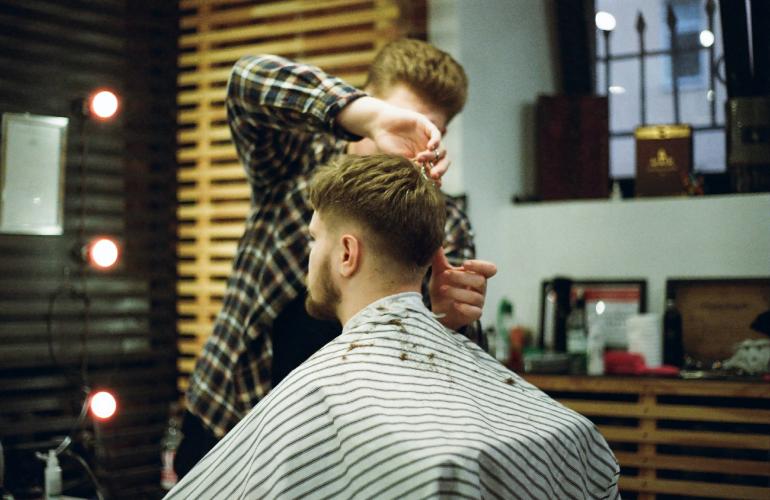 Simple & Stylish Short Haircut For Men To Try This Year
All men want to be attractive and modern, even if they don't emphasize it often. So if the image for you is not an empty phrase,start changing with a hairstyle - it depends on how stylish and harmonious you will look this year. We have prepared a list of simple and stylish short haircuts for men that you must try.
● Military Haircut
The practicality inherent in short hair is perhaps one of the main trump cards, thanks to which guys will never part with military-style hairstyles. This short men's haircut without bangs in 2022 has become even more masculine and interesting thanks to the contrasting transition line and exciting color combinations.But for the result to look perfect, you will have to visit our salon center at least once every 2-3 weeks. Otherwise, the form will become sloppy and fragmented. Our hairstylist will set the haircut perfectly and make you look elegant.
● Classic British Hairstyle For Gentlemen
The list of fashionable men's youth haircuts in 2022 cannot be imagined without an elegant British man. It looks more impressive in the coming season due to the sharp fade and shortened temples, which sometimes look shaved. The strands at the back of the head are usually arranged in a neat cascade, and the bangs, reaching 8 cm, allow you to experiment with styling for every taste.
● Eccentric Crop
In 2022, the men's crop haircut has become the standard of informal classics. Visible thinning with combing from the crown to the back of the head allows you to add volume and texture to the hair, and even bangs shift the accents and slightly correct the shape of the face.
● Canadian - The Standard Of Classic Men's Haircuts
Youth haircuts for guys in 2022 may seem slightly shocking, but this does not mean that the classic has completely outlived its usefulness - the aristocratic Canadian is still in trend in the last few years.Soft fade,neat bangs,combed back or parted good styling, and an elegant cascade of strands from the crown to the back of the head.
Visit our salon center to get simple and short hair cuts quickly and conveniently. As per your instructions, they cut hair and help you get the desired look