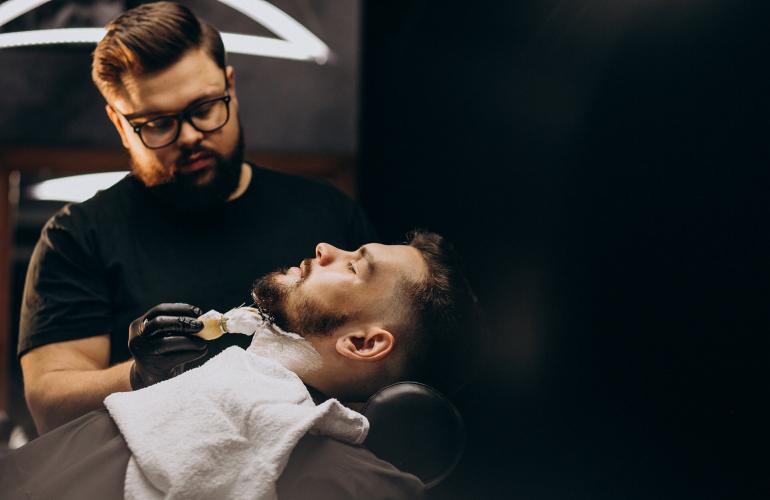 Shave And Facial Treatment
In today's world, all men want to look impressive and attractive. They do everything possible to get an attractive appearance and stand out from the crowd. Shaving and facial treatment are an essential part of your endeavor to get a bright look. Unfortunately, most men have no idea how to save and treat their faces. That is why they fail to get the desired results after saving and giving treatment to their face. Don't get worried about it and visit our salon center in Qatar. We have professionals who perform shaving and facial treatment using the right tool and cosmetic products. You have a neat and clear appearance when shaving and facial treatment come to an end.
Soon after visiting our salon center, let our specialists know your preferences about the shaving type, cream, and other cosmetic products. They have access to the necessary tools and high-quality cosmetic products used in shaving and facial treatment. They will shave your beard smoothly without causing any irritation or discomfort. They use new razors, high-quality shaving cream, and after-shaving lotions to give you the best value for money.
Our saloon staff keeps everything up to date in-salon centers. Neat and clean saloon, chemically treated shaving equipment, the use of safe cosmetics, and friendly treatment to all customers are our priorities. We have a rich catalog of shaving creams. Let us know your preferences, and we will use particular shaving cream to get the best results.
High-quality Facial Treatment
First, our specialists study the face skin and choose the best facial treatment method. Then, they use suitable lotions, creams, and other cosmetic products to perform facial treatment smoothly and achieve better results.
A perfect combo of shaving and facial treatment gives a sharp improvement to your look and improves the overall appearance. Visit our salon center today to have shaving and facial treatment at affordable price tags.