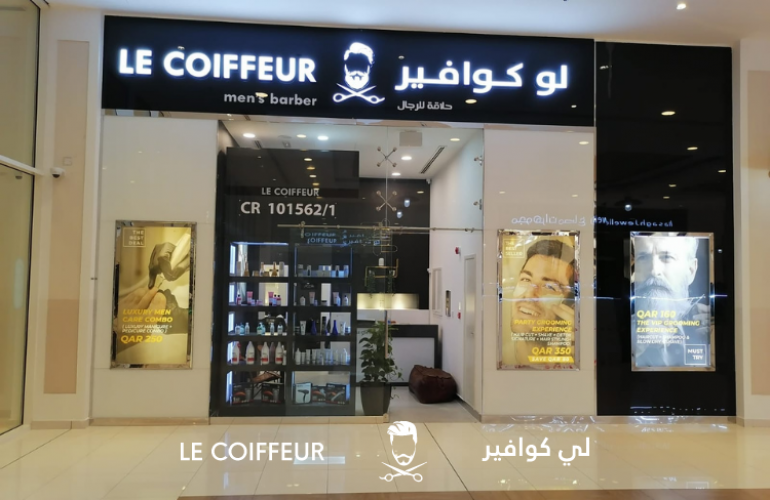 Here's some great news for men in Qatar! Le Coiffeur – the first and only "Man-Cave '' in Qatar, a stylish luxury men's grooming destination located in Gulf Mall, is opening on 29th December at 5 PM, to cater to gentlemen who want that special pampering and care to make them look sharp and feel confident.
Le Coiffeur offers everything from a hair wash and blow dry to head and shoulder massage. Targeting men, this salon provides packages that attract clients from all over the city.
Mark your calendars for the grand opening of the new Le Coiffeur branch located on the ground floor at Gate 5 of Gulf Mall, in Al Gharafa.
All customers can avail the below combos from the date of opening:
Inaugural Combo Packages
• The Relaxing Experience (Haircut, Shampoo, and Head Massage) at 160 QAR only
• VIP Grooming Experience (Haircut, Shampoo, Blow Dry, and Shave) at 160 QAR only
• Deal of the Day (Haircut, Hot Towel Shave, and Beard Color) at 220 QAR only
ABOUT LE COIFFEUR
Le Coiffeur is a high-end barber shop exclusively for men, where one can sit back, relax in a luxurious atmosphere, and experience the art of traditional grooming services in an environment that is masculine and therapeutic.
Where Wait Becomes Fun
A specialist men and kid's hair salon, Le Coiffeur provides an all-round haircut and grooming experience in a lively, fun, and child-friendly environment with entertainment such as fun car seats and cartoon film screenings to help manage your child's anxiety and to make them relax and enjoy the grooming session.
The VIP experience here is an exclusive grooming space located at the Dar Al Salaam mall branch for those who simply want more privacy and their own space while undergoing treatments and grooming sessions.
Le Coiffeur opened its doors in February 2020 at the Dar Al Salaam Mall and will soon be opening at Gulf Mall as mentioned before.
SERVICES
Searching for a barber shop where you can just walk in, get a great haircut, and have a unique and enjoyable experience? Le Coiffeur is where your hair care needs are professionally met while relaxing in an upscale ambiance.
This barber shop offers the following services:
• The Royal Experience
An experience not to be missed, this package includes a haircut, shampoo, traditional hot towel wet shave and any of the Illuminating, Marine, Cold Cream, or the Purete Facial Treatments. The treatment is provided with personal attention in a VIP Room while customers enjoy complimentary coffee, cappuccinos or Karak.
• Hair Cut & Color
Each haircut begins with a complete hair consultation, followed by a relaxing scalp massage. After the cut, the Master Barber will color and style your hair using appropriate Redken or Loreal hair styling and hair color products and give you recommendations as to how to care for your hair at home.
- Hair Cut (short)
- Hair Cut (kids)
- Hair Cut (long)
It's a classic men's look that will never go out of style: the fully shaved head. The versatility of this look appeals to men of all ages.
• Beard Care & Beard Colour
Our highly trained barbers will discuss with you and understand your exact requirements to ensure you achieve the precise beard look you want. Whether you want a quick beard or mustache trim, a more stylised look straight out of a magazine, a hot towel shave or to get your bear colored, Le Coiffeur's stylish salon is your best bet at having it done your way.
• Face, Hands Feet & Body Care
All of us love a bit of pampering don't we? Explore a range of services to give that extra bit of love to your face, hands, feet and body as a part of the variety of treatments available such as face scrubs, manicures, pedicures, waxing, massages and more.
WHY LE COIFFEUR?
At Le Coiffeur, men's personal care just got a major upgrade. It's what you get when you combine exceptional service standards, with a relaxing upscale environment and luxurious elegant interiors. Men who come here get way more than just a haircut. Each interaction comes with a fair bit of consultation, advice, care that leads to comfort and this is what sets it apart from other salons in Qatar.
This barber shop has carved a special niche with its unique styles of barbering, cutting-edge facilities and the following highlights:
• Experienced Barbers
The barbers here have a combined 20 years of experience in https://lecoiffeur.salon/men's grooming services in the GCC. All the stylists have extensive knowledge and several years of experience in children's haircut & grooming.
• Branded Products
Le Coiffeur uses only high quality brands that include Redken, Loreal and Thalgo.
• Great Location
This barber shop is located in two of Qatar's most popular community malls — Dar Al-Salaam Mall (1st Floor) and Gulf Mall (Ground Floor) near Gate 5
• Customer Service
Le Coiffeur guarantees exceptional customer service !
• Loyalty Rewards
Your 11th haircut is FREE and you get a 50% discount on your birthday!
SHOP TIMINGS
Le Coiffeur is open at the following timings:
• From Sunday to Wednesday at 10AM to 10PM
• From Thursday to Saturday at 9AM to 11PM
• On Fridays at 1PM to 10:30PM
Most men are in search of a place which is less crowded, is hygienic, trendy and upscale where all their grooming and pampering needs can be met. If this is you, visit Le Coiffeur and experience one of their attractive combo packages.
Book your appointment today at +974 55260296 or follow & message us on @LecoiffeurBarbershop on Facebook and @ lecoiffeur.salon on Instagram for more details.